Showcase of Citrus - Country Store

Print this listing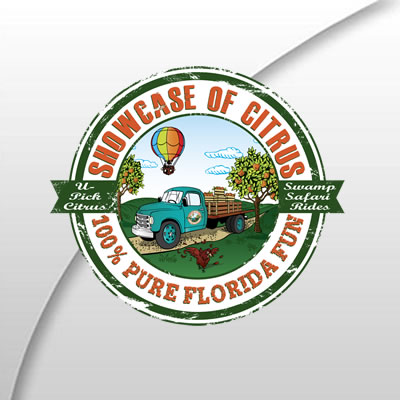 VIP Shop & Dine 4Less Card Offer: FREE Cup of Animal Feed Souvenir Cup w/ any Retail Purchase $18 or More
The Showcase Of Citrus is a family owned and operated estate cultivating over 70 varieties of citrus located just 15 minutes from Disney World. The Showcase of Citrus is an adventure off the beaten path known for its World Famous 100% Natural Orange Juice Slushy and its Creamsicle; it's a fruit lover's paradise and appropriate for people of all ages.
Arrive at an Old Time Farm Store & Market and sample locally made sauces, jams, jellies, honey, and tasty treats while preparing for your adventures in the grove. Grab a guide map and select your very own fruit directly from the trees! You can also comfortably tour through the 2500 acre Estate on the world largest 4×4 vehicle.
You may drop by thinking you will just pick up a bag of incredibly fresh fruit but realize hours later that you have spent the entire day with us walking through the grove, taking in the fragrance of Orange Blossoms and strolling along the waterfront grounds. That's the way we like it! You will have the opportunity to relax, enjoy, bond, and create fond memories with family during your visit.
In addition to picking your own citrus; Blueberries and Blackberries have been recently been added. Stop by and see us sometime and remember… ADMISSION is FREE!
There's so much to choose from!
-World famous 100% Natural Seasonal Slushies: Orange, Tangerine, & Lemonade
-World famous Creamsicle (made with 100% natural Slushy and Frozen yogurt)
-Fresh picked fruit from the grove
-Seasonal Fresh Squeezed Juices
-Specialty Jams, Jellies, Marmalades, Syrups
-Specialty Salsas, Dressings, & BBQ sauces
-100% pure Tropical Fruit, Berry, & Citrus Wine
-Handmade Soaps & Bath Products
-Pure Farm Fresh Honey
-Fresh Local Produce (seasonal)
-Unique beverages & Vintage sodas
-Hot boiled & Fried Peanuts
-Frozen Yogurt
-Sweets & Treats
-Farm Fresh Eggs
-Pork Rinds & Beef Jerky
-Country Charm items
-Alligator souvenirs
-Alligator meat: Frozen 1 lb packs to go
-Showcase of Citrus Keepsakes
Location
South Clermont/HWY 27 Area
34714
Clermont
,
FL
Florida
Total votes: 155
Rate This Venue