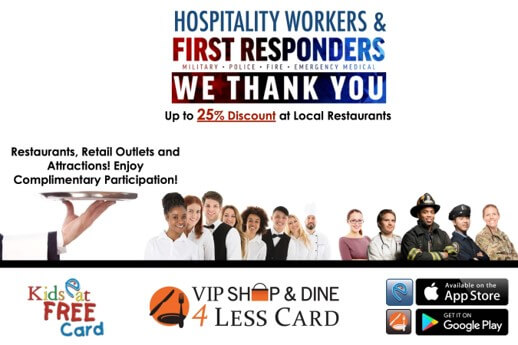 Dear Local Business Owner,
     Hospitality has always had a special place in my heart.  My first businesses were a pizza restaurant and a coffee shop in New Jersey, so I understand frist-hand the commitment and heart being in the industry requires.  As you know, the recently thriving world of service has been affected greatly by the current pandemic we globally face.
     Conrad Hilton once said that it has been, and continues to be, our responsibility to fill the earth with the light and warmth of hopsitality.  During uncertain times, our industry continues to fulfill that responsibility by continuing to serve the public with to-go and delivery orders.  
     We want to support our beloved Local Business & Restaurant industry by extending COMPLIMENTARY listings and particpation in any or all our programs.  For all local restaurants, retail outlets and area attractions that sign up prior to June 30, 2020, all set-up and particpation fees will be waived for as long as you wish to have us promote your business.   
     These programs allow you promote a discount offer to a vast network of diners and shoppers, or simply list your business without a discount offer on our platforms to let the world know that you are open for business and still serving the public.
     Our programs have existed for well over a decade and served millions of domestic and international users throughout the cities that partner with us.
     To obtain your complimentary listing, simply complete the short form below and we will get to work on building your profile page(s) and digital presence.
     We thank you for you service during this difficult time for our country.
Wishing you health and safety,
Dale Takio
Founder, Taktik Enterprises, Inc.
For additional questions or to learn more, feel free to email us at: [email protected]
To start your complimentary participation in our program(s) or to modify an existing offer or listing, simply complete the form below.