Thank You Hospitality Workers

Print this listing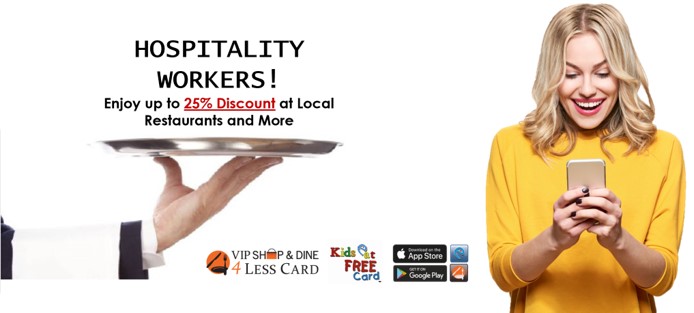 Dear Member of the Hospitality Industry,
     The Hospitality has always had a special place in my heart.  My first businesses were a pizza restaurant and a coffee shop in Jew Jersey, so I understand frist-hand the commitment and heart being in the industry requires.  As you know, the recently thriving world of service has been affected greatly by the current pandemic we globally face.
     Conrad Hilton once said that it has been, and continues to be, our responsibility to fill the earth with the light and warmth of hopsitality.  During uncertain times, our industry continues to fulfill that responsibility by continuing to serve the public with to-go and delivery orders.
     We want to support our colleagues in the Hospitality industry by extending COMPLIMENTARY one year membership to our VIP Shop & Dine 4Less Card and/or Kids Eat Free Card program.
     These programs allow you to enjoy discounts at hundreds of restaurants presently offering to-go / delivery services.  When they re-open with full operations, you will be able to enjoy their full benefits.
     Our programs have existed for well over a decade and served millions of domestic and international users throughout the cities that partner with us.
     To obtain your complimentary year-long membership, kindly click here and sign up.  You will be emailed instructions to download your free mobile version of our programs upon qualification verification.
     We thank you for you service during this difficult time for our country.
Wishing you health and safety,
Dale Takio
Founder, Taktik Enterprises, Inc.
Offer Ends June 30, 2020