Ripley's Believe it or Not! - NYC

Print this listing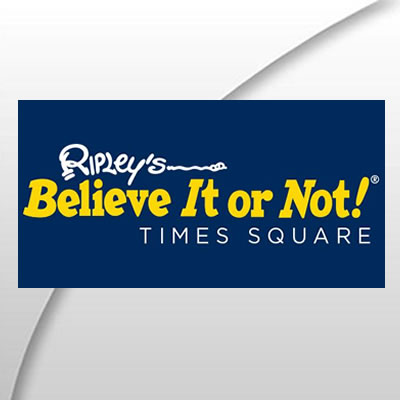 VIP Shop & Dine 4Less Card Offer: 20% Off Admission
*Not Valid for Online Purchases
One of the Best Things to Do in NYC: Ripley's Believe It or Not! Times Square
Looking for what to do in Times Square? Ripley's Believe It or Not! Times Square is proud to have been surprising and entertaining NYC visitors as one of the top Times Square attractions since the doors first opened to the public in 1939.
This historic Times Square museum is home to rare artifacts and thrilling interactive exhibits. Our one-of-a-kind attraction welcomes visitors to immerse themselves in the unusual, the unexpected and the unbelievable. Ripley's Believe It or Not! Times Square showcases some of the most incredible exhibits found in New York City, many of them discovered and owned by Robert Ripley himself! And…this family friendly attraction is the largest Ripley's in North America!
A Family Friendly Attraction in Times Square
Grandparents will remember the famous Robert Ripley Believe It or Not! comics from the newspaper, parents will fondly remember the television show, and kids will know the crazy Believe It or Not! annual that sits dog-eared in the school library. Everyone remembers their first visit to a Ripley's Believe It or Not! attraction. Ripley's Believe It or Not! Times Square continues the tradition of creating lasting family memories, as one of the best things to do in Times Square.
Looking for interactive and exciting things to do with kids in NYC? Our attraction is one of the most perfect indoor activities in NYC with over 20 themed galleries that families can enjoy at their own pace. There's plenty of engagement for kids! They will delight in the myriad of interactive exhibits while adults can relish discovering more about the strange world we live in while playing with the kids, of course!
Over 500 Unique and Engaging Exhibits
As you meander through over 20 themed galleries spanning two floors, you'll discover new surprises around every turn. Make sure you bring your camera! There are amazing photo opportunities you won't find anywhere else! Where else can you take a photo where you're only half a person, a head in a jar, covered by live cockroaches, or hanging off the top of the Empire State building? You can do all this and more at Ripley's Believe It or Not! Times Square!
Our Times Square attraction is home to the most amazing interactive exhibits including: Mindball, where the most relaxed brain wins; the amazing LaseRaceTM, where physical insanity ensues; and, the famous Black Hole which will set your mind spinning!
Learn more about a few of our exhibits! We think your entire family will agree the Ripley's Believe It or Not! Times Square is a 'must see' on your list of things to do in Times Square!
Location
Midtown
10026
New York City
,
NY
New York
Total votes: 121
Rate This Venue