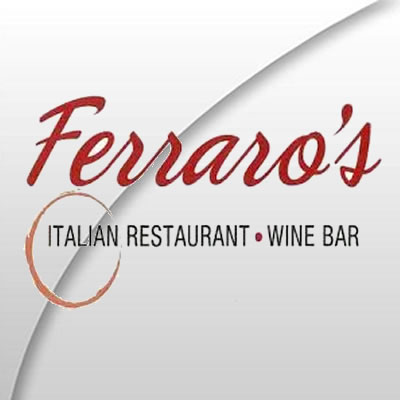 VIP Shop & DIne 4 Less Card Offer: 20% Off Entire Check
In Italy, we have a tradition of cooking and fine dining that dates back to the Roman emperors and rivals the finest of the fine arts. Indeed, Italian cooking is an art, a national heritage born of the freshest ingredients, the bounty of the land and sea and innovative recipes, prepared with finesse and care. Here at Ferraro's we take great pride in our heritage and are pleased to present to you the very finest Italian cuisine in an environment of elegance and style. From our kitchens, come our own time honored family recipes: homemade breads, superb pasta dishes, exquisitely fresh seafood, authentic Italian desserts, and our renowned Osso Buco, a 5 Star Diamond Award entree.
Our well appointed and celebrated wine cellars will provide you with the perfect accompaniment to your meal and justify their awards: the prestigious Wine Spectator Award of Excellence, the Wine Enthusiast Awards, and rave review in the Zagat Survey. We are certain that you will feel as we do that each dish is a masterpiece unto itself and therefore not request substitutions of any kind. Whether your occasion is intimo or di festa large or small, we welcome you to experience fine Italian dining at its best. We welcome you to Ferraro's.