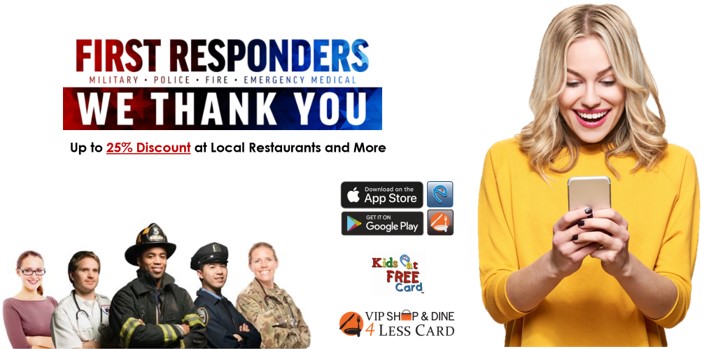 In the midst of pandemic-driven chaos, we have watched out brave First Responders and Teachers take action with grace, duty and resilience.  As a business, we want to support and show our gratitude by extending all First Responders and Teachers COMPLIMNETARY one year membership to our VIP Shop & Dine 4Less Card and Kids Eat Free Card programs
     These programs allow you to enjoy discounts at hundreds of restaurants presently offering to-go / delivery services.  When they re-open with full operations, you will be able to enjoy their full benefits.
     Our programs have existed for well over a decade and served millions of domestic and international users throughout the cities that partner with us.
     To obtain your complimentary year-long membership, kindly click here and sign up.  You will be emailed instructions to download your free mobile version of our programs upon qualification verification.
     We thank you for you service during this difficult time for our country.
Wishing you health and safety,
Dale Takio
Founder, Taktik Enterprises, Inc.
Offer Ends June 30, 2020