ICON Park - Sky Bar, Wheelhouse Bar & Lawn Bar

Print this listing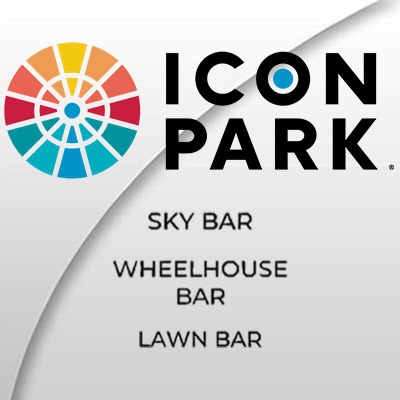 Ocean Holidays Saving Card powered by VIP Shop & Dine 4Less Card Offer: Drink Special - 20% Off Wells, Beer, Wine, and Menu Cocktails
*Must be 21 years or older with valid government issued ID to redeem this offer

Visit ICON Park® and an Array of Orlando Attractions
Every year, thousands of tourists visit Orlando, FL. While in our lovely city, they expect to see all kinds of attractions, including Walt Disney World, Universal Orlando, and a plethora of natural features. However, as you build your itinerary, don't forget to include ICON Park®! Orlando's premier entertainment destination, we feature a variety of amusement park attractions to luxurious dining to captivating museum exhibits. Whatever your favorite way to enjoy your vacation, ICON Park® has something for you.
Summertime has officially arrived here in Central Florida, and Orlando's Hometown Playground is revving up to party the sun-soaked the days away. What better way to beat the heat, pump up the party, and lift your spirits, than aboard The Wheel's Sky Bar? Cruising at over 400 ft., you and your crew can toast and turn up with a refreshing array of aviation libations. Take it from us, the Sky Bar is the ONLY way to fly!
So how can you get in on the action? Easy! Once you and your friends have purchased tickets for The Wheel, just stop by the Deck Bar before you board. Here, you can choose from a truly "buzz-worthy" menu of potent potable. Whether you want to crack open a cooler of frosty beers, savor a tall bottle of wine, or pop some champagne, The Wheel's Sky Bar has several selections on hand to quench your thirst and send you soaring.
Whether you're looking to celebrate a birthday, graduation, or just another Saturday night, The Wheel's Sky Bar will have your squad sipping and smiling all the way across the Orlando sky. Plan your next night on the town now, and purchase your tickets for The Wheel HERE.
Good times and high-flying celebration are waiting for you here at ICON Park®, Orlando's Hometown Playground. Cheers!
As guests walk to the back lot of The Wheelhouse to ride The Wheel, they'll discover the new Sky Bar. It's a casual spot to pick up a quick drink before boarding your capsule. The bar is covered in ocean blue scallop-shaped cement tiles and accompanied by a brightly-speckled terrazzo countertop. The back bar wall, painted in Flamingo Pink, is decorated with a selection of curated poster-sized vintage travel postcards, a nostalgic wink to Florida tourism over the years.
A key component of The Wheelhouse remodel was the addition of a circular bar in the center of the building. It was designed using custom-colored, hand-made encaustic cement tiles to give the bar surface a fun, Florida feel, all while complementing the ICON Park colors surrounding it. The shape of the round bar honors the design of The Wheel – a hint of what is to come. It features blush-colored glass pendants that are handblown, suggesting sea glass, and a brightly-speckled terrazzo countertop adds a touch of retro glam. This mix of texture, color, and shape, makes The Wheelhouse Bar the perfect spot for a quick drink or leisurely hangout with friends
Starting at noon, ICON Park's® spacious lawn will transform into party central! A fist-bumping DJ will spin your troubles away as you peruse booths serving special tidbits from several of our most popular eateries. Our very own Lawn Bar will all be on hand serving up their very best for you to savor.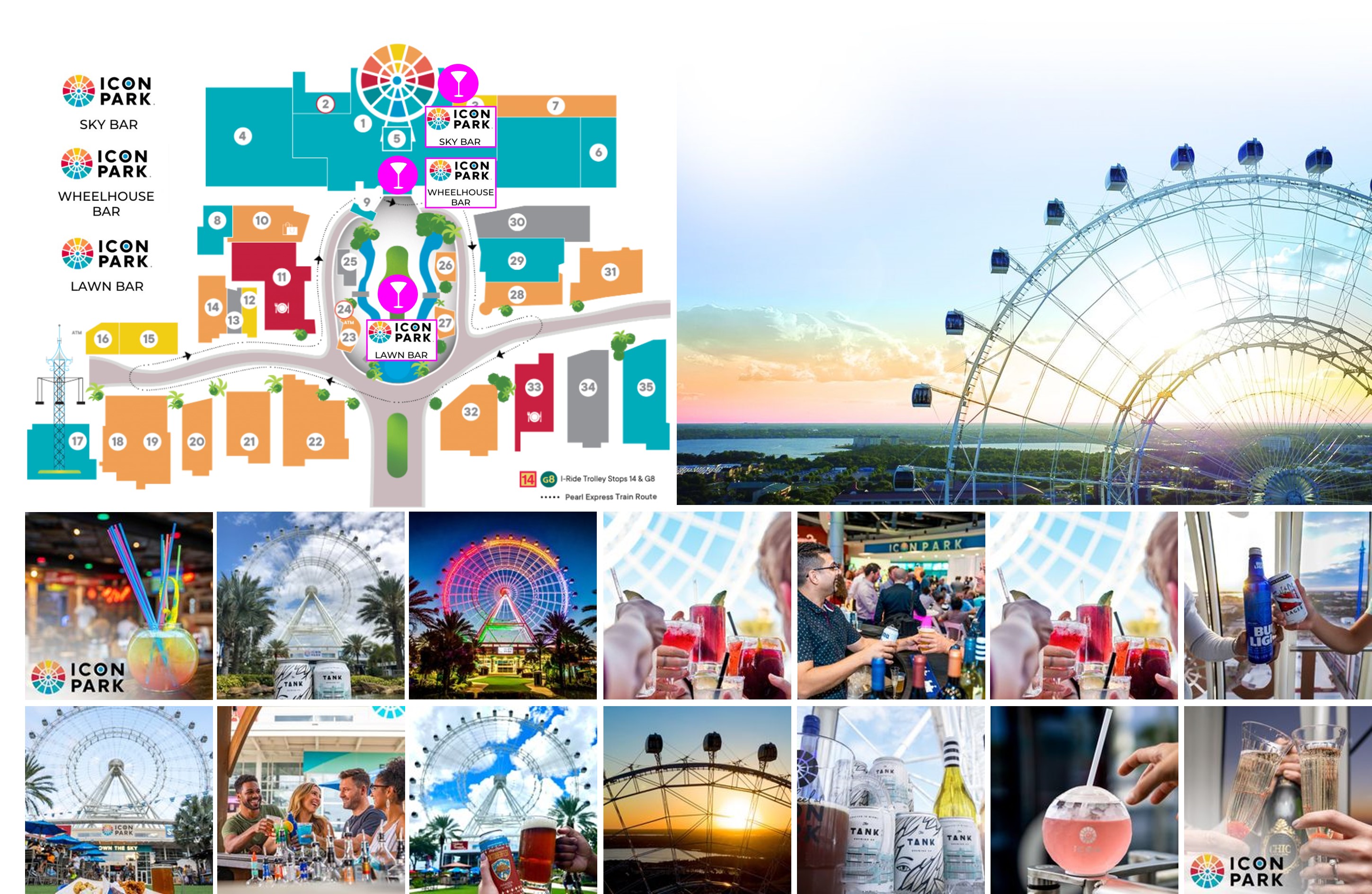 Locations
ICON Park
8375 International Dr
ICON Park Lawn Bar
32819
Orlando
,
FL
Florida
ICON Park
8375 International Dr
ICON Park Wheelhouse Bar
32819
Orlando
,
FL
Florida
ICON Park
8375 International Dr
ICON Park Sky Bar
32819
Orlando
,
FL
Florida
Total votes: 1
Rate This Venue